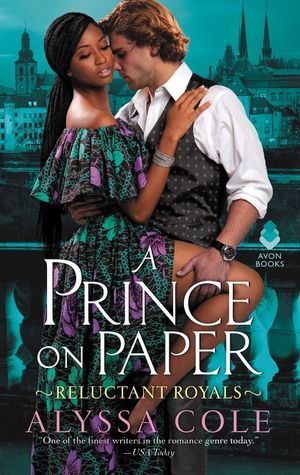 Release Date: April 30, 2019
Read Date: March 9, 2019

***TRIGGER WARNING for emotionally abusive parents***
ARC provided by publisher via Netgalley. All opinions are uninfluenced.
As soon as I saw this got approved, y'all KNOW my ass was on it! I loved Nya in the two previous books and in A Duke by Default, Johan stole my heart.
This book features not only a hot, steamy, interracial/international romance, it does so with two broken and troubled individuals who begin the process of healing with each other. Nya just wants to love life after watching her abusive father be jailed for treason and Johan sees his only purpose in life as protecting his 17 year old younger brother, and heir to the throne, from the dangers of the royal world. When Johan needs a distraction to top all distractions, he and Nya strike up a fake engagement. She gets to see a little more of the world and he can continue taking the heat of the press so his brother doesn't have to. Easy agreement, right? But we've all read this fanfic before, so we know what happens!
Firstly, this book had me dying laughing. Like, audible, dog-concerning cackles. That "we've all read this fanfic before" line I just pulled? Straight from Ledi's mouth in this book. I loved seeing all the old characters while really diving into these two new ones.
What is so great about Nya and Johan's relationship is that it is feminist, equal, and focuses on consent and mutual respect. Sure, they each have some preconceived notions of each other going in, but as they learn who the other really is, they make sure to care for each other as they need and want. Watching them develop and heal from past trauma (Johan from his mother's passing and Nya from her father's abuse) together was beautiful, and I loved how it's always made abundantly clear that their relationship is not the only thing that can heal them; they need professional help as well (which they attend). Trust me when I say that the chemistry between Johan and Nya is EXPLOSIVE.
But on top of that, there is one more thing that I abso-fuckin-lutely loved about this book: a main character comes out as nonbinary and we get to watch their journey as they come to fully accept themselves and begin to live the life they so desperately want. Watching that was so beautiful and it was handled with such care that I can only applaud Alyssa Cole for giving us that rep and doing it well.
Have I convinced you to read this book yet? Well if I haven't, then consider this me just straight up telling you to go pick this entire series up. I have all my fingers and toes crossed that we get more stories in this world from Cole, it is a gem in the romance genre.
Are you excited for A Prince on Paper?